When I first started writing about the Bat-Flip Royale, detailing individual's attempts to gain entry into a (fictional) season-ending bracket of Bat-Flips, the winner of which would be granted the 2014 belt, it was all in fun. Jayson Werth had just punctuated the Marlin's decision to intentionally walk the batter ahead of him with a grand slam, and his emphatic bat-flip was the icing on the cake. The bat-flip bar was set, and several well-known contenders (offenders?) soon stepped up. Yasiel Puig in fact, took the competition very seriously indeed, adding quantity to his bat-flip quality.
But yesterday, well… to put it lightly, things turned sour, when Manny Machado took the name of my little contest a tad too literally. After his very real effort to start a rumble, Twitter blew up, and calls for him to be suspended for his childish actions abounded. Even as a lover of a good bat-flips, even I must admit this was a step too far. But like a good ol' train wreck, Machado's actions can't be ignored.
Machado's interesting weekend actually started on Friday night with a seemingly innocuous play. With the option to throw to first to end the third inning, A's third baseman (and my AL MVP pick so far) Josh Donaldson instead chose to tag Machado, who was literally just in front of him. Unconventional, according to the unwritten rules of baseball, but altogether harmless. The 21-year-old Machado however, thought not, taking exception to what was essentially a love tap, and tumbling to the ground. Whether it stemmed from his recent knee injury, or something else entirely, his reaction was entirely unwarranted, so much so that even the umpires found it amusing. Anyhow, after a round of 'hold me back' posturing between the two benches, the game went on with no ejections. Wei-Yin Chen though, plunked Donaldson the next time he came up (Donaldson had earlier hit his 17th homer of the season off of Chen, but dude…). Things were officially on.
On Saturday, Machado teased us with his bat-flip promise. Just look at the frustration in that toss, it's a thing of beauty. I count a 480° twist on that thing, which in combination with the petulant helmet spike and look of disbelief, really adds to the dramatic effect of it all. His matinee display however, not that we knew then, was just a precursor to the main event that would follow a day later.
Yikes. From whatever angle you look at it, that's not a pretty sight. Sure Fernando Abad had thrown in on him twice in a long decided game (the Atletics had a 10-0 lead at the time), but Machado had already knocked Oakland's catcher Derek Norris out of the game with two rather exaggerated backswings. He can't exactly claim Abad's retribution was unwarranted. But throwing the bat… jeese Manny. It's not even Donaldson at third base – it's Alberto Callaspo! Naturally the benches cleared once again, with Stephen Vogt (who had replaced Norris behind the dish) particularly upset it seemed. This time, crew chief Larry Vanover had the good sense to eject both Abad and Machado, later explaining "It was obvious the pitcher threw at him the second time… then [Machado] threw the bat. That wasn't accidental. He threw the bat, so two ejections."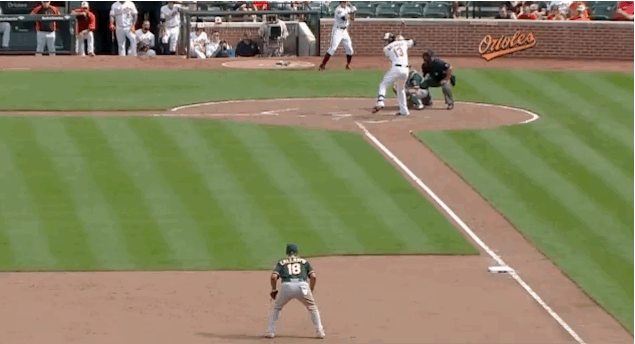 Yeah, no matter what you say Manny, that wasn't an accident. You are hereby suspended. For the remainder of the season, no theatrical action of yours at the plate will be considered for entry into the Bat-Flip Royale. I suggest you spend the time wisely, getting back into the so far elusive form you displayed during the first half of the 2013 season, where it seemed like every darn plate appearance ended in a double, and doing your best Brooks Robinson impersonation over at third.
And if you really want to get back at Josh Donaldson, taking his crown as the best third baseman in the American League would be a solid, responsible way to go about it.