Chris Heston has been the Giants best start the first two weeks of the season posting a 0.87 ERA in 20 2/3 innings, but can he keep it up? Obviously not, but what does his future hold?
The 27-year old has only throw 26 innings in the big leagues with a 19.2 K% and 7.7 BB%. In 2014 with Triple-A Fresno he had worse K/BB percentages posting a 17.5 K% and 7.1 BB%. In 2013 and 2014 with Triple-A he pitched poorly, posting a 4.98 FIP in 2013 and 4.50 FIP in 2014, but BABIP was part of the problem. In 13' he had a 5.80 ERA to go along with his poor FIP, but his opponents had a .350 BABIP against him. Then in 2014 he had a 3.38 ERA with a bad FIP, but his opponents had a .264 BABIP (.290-.310 is average).
Now in his first three starts this year he has a 3.03 FIP, mostly due to limited number of strikeouts. He's a sinkerball pitcher expecting weak groundballs and that's what he is getting. Getting 45 % groundballs is considered average and he has a 62.1 % so far this year. His BABIP against is an astonishing .246, which is likely to rise to around .300 by the end of the season. I think we can all agree that his numbers will regress heavily throughout the season due to the low home run totals and low BABIP.
Now let's take a look at the pitchers he is throwing and their effectiveness (Brooks Baseball).
"Chris Heston has thrown 501 pitches that have been tracked by the PITCHf/x system between 2013 and 2015, including pitches thrown in the MLB Regular Season and Spring Training. In 2015, he has relied primarily on his Sinker (91mph), also mixing in a Slider (78mph), Curve (76mph) and Change (84mph). He also rarely throws a Fourseam Fastball (91mph)."
Here's a chart with frequencies, speed, and movement on his pitches (Brooks Baseball).
Whiff rate with his slider to righties:
With his sinker, he uses it frequently from his 3/4 release point. Watch how he starts his sinker on the outside and runs in on the outside corner to get Paul Goldschmidt looking. He uses this strategy in strikeout situations. This was in his first start of the year.
Now here is Heston getting Mark Trumbo to whiff at his slider. Yes his slider is unusually slow averaging 78.09 MPH the past few years.

Heston was given the opportunity to pitch on the Giants home opener and the day of their ring ceremony and was great at preventing runs on both occasions. This gif is from the ring ceremony. He first uses the back door sinker again at 91 MPH to freeze Goldschmidt and then uses an inside sinker at 89 MPH to get Chris Owings to roll over to the third baseman.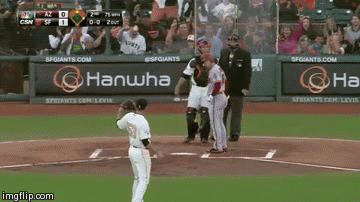 The 6'4 right-hander does have some control issues, though, missing his spots constantly. It hasn't bitten him yet, but it will if he continues to miss his location. On this David Peralta home run Heston was down in the count 2-0 and mistakingly threw an 88 MPH inside instead of outside.

This was a hanging curveball at 73 MPH and he got lucky that the batter made weak contact, but he can't rely on the batters missing hanging breaking balls all year. He will be humbled.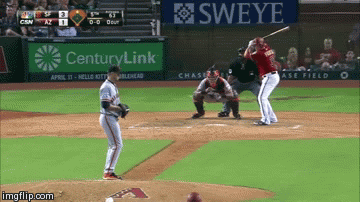 Overall, he has gotten off to a hot start with some good luck, but has good movement on his sinker that will allow him to be a big league starter. His slider and curveball need work, but his changeup is effective enough against lefties. He has thrown 44 changeups, all to lefties and has slightly less vertical and horizontal movement compared to his sinker, but the 8 MPH difference from his hard stuff is perfect.
Whiffs with change ups vs lefties:
Steamer projections and ZiPs seem to agree on a 3.60-3.90 FIP this year with a 3.30-3.80 ERA. It will be interesting to see what happens to the rotation when/if Jake Peavy and Matt Cain come back. It could be bullpen time for Heston, but if he's still going strong it will be tough for Bochy to move him out. Tim Lincecum and Tim Hudson could also be moved out if they are struggling. We'll see.