Close your eyes.
Imagine the Toronto Blue Jays have secured a one game playoff via a wild card birth. They have just ended the longest drought in MLB history. You don't know what to do. You don't know how to feel. You find your mom and give her a hug just to make sure it's all real.
When the dust finally settles and the realization becomes overwhelming, thoughts and questions begin to swirl in your head. Many are answered, some are not. You begin to investigate the starting staff and ask yourself, "Who gets the nod?"
Without a legitimate ace, the question emerges as a difficult one to answer.
The truth is – aside from last season – Toronto has not been this close to playoff baseball in the past eight years on this date.
2015: 41-37 (4th in AL East; 1.0 GB)
2014: 45-39 (1st in AL East)
2013: 40-41 (5th in AL East; 8.5 GB)
2012: 40-38 (5th in AL East; 7.5 GB)
2011: 40-42 (4th in AL East; 9.5 GB)
2010: 40-39 (4th in AL East; 8.0 GB)
2009: 41-38 (4th in AL East; 7.0 GB)
2008: 41-43 (5th in AL East; 10.0 GB)
2007: 39-41 (2nd in AL East; 10.5 GB)
In a division long dominated by the dynasties of New York and Boston, the wounds in Toronto are beginning to heal as the Blue Jays have played well enough to stay in the mix. With the offense scoring more runs than anyone in the world, the microscope turns towards the pitching staff. Seeing as hypothetical situations are always fun to talk about, and, lets face it, being a part of the Toronto sports scene (possibly) indicates that the Jays may never get this close again, who would you trust in a one game playoff if you were John Gibbons?
My choice would be the south paw…if it was an away game. The 15-year veteran has shown an uncanny ability to get the job done on the road this season. Buehrle has thrown both of his complete games away from the Rogers Centre this season, showing that he is comfortable in hostile territory.
The 36 year-old obviously does not possess the velocity to overpower hitters, but wow can this savvy pitcher ever spot up, alter the timing of his delivery, and change speeds. Sporting an 8-4 record with a 3.81 ERA overall, Buehrle could play the role of the gate keeper, opening the door to the American League Division Series. The lefty has some playoff experience, overcoming a powerful Boston team in 2005 where he pitched seven innings, allowing four runs and eight hits, while striking out two. Buehrle would go on to throw a complete game against the Angels in the ALCS, and then pitch seven strong against Houston in the World Series. Having twirled two complete games this season, coupled with a month of June where he hasn't allowed more than two runs in an outing, Buehrle would be the go-to guy for a one game playoff.
It has been night and day when it comes to home-away splits for the young right hander. Hutchison is 6-1 with a 2.12 ERA, and opposing batters are hitting a feeble .218 average against him at the Rogers Centre. The 24-year-old has struck out a total of 50 batters at the RC, compared to 31 on the road, and with less innings pitched. Away from Toronto, it is a totally different story. Hutchison has given up a total of 49 earned runs this season, 37 of them have come on the road. Opponents are hitting for a .356 average against, while eight out of ten homeruns he has given up, you guessed it, have come in foreign stadiums. The big number here is the 8.92 ERA Drew has compiled in hostile territory. If the playoff were to be on home turf, it would be a no-brainer, he has dominated, but away from home…errr not so much.
The last five times Estrada has taken the mound, the Blue Jays have won. He is arguably the hottest pitcher in baseball right now (Max Scherzer is there, Zack Greinke gets honorable mention) after taking a no hitter into the 8th against Baltimore, and a perfect game into the 8th against Tampa Bay. If you like to go with the hot hand, he is your guy. His command has been key for him during the five-game span and he possesses one of the best changeups in MLB.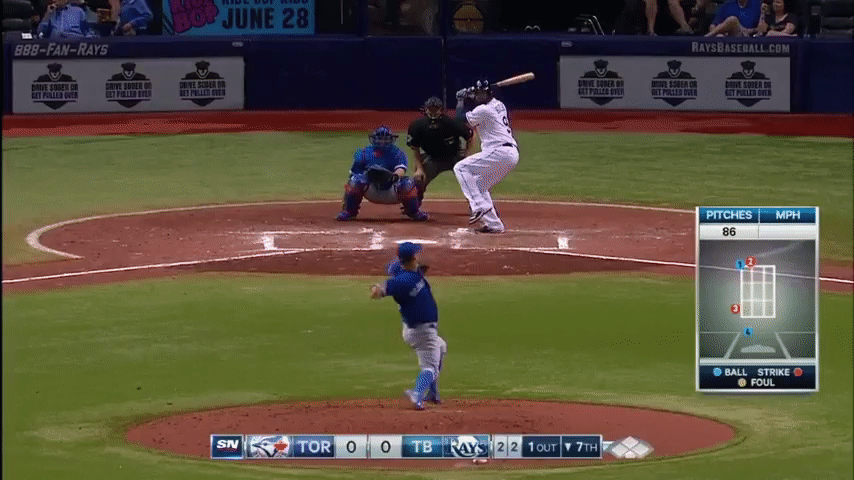 Estrada is coming off of a season where he gave up the most home runs over any other pitcher in the league, but that has significantly changed in 2015. Estrada allowed 1.73 HR/9 innings last year, while sitting at 0.99 HR/9 innings this campaign. He has been accurate, and has thrown up great strikeout numbers (16 in his last two outings). The difference this year is his ability to limit hard-hit balls. According to FanGraphs, Marco has allowed only 23.3% of barreled balls, which is the eighth lowest number of any pitcher with 70 innings or less. If the Blue Jays were in a one game playoff on this date, it would be ridiculous not to consider Marco Estrada.
Many people would instantly shake their heads upon hearing this name. The reality is, he hasn't been that bad, as of late. Dickey has yet to allow more than three runs in his last six starts, and has gotten little run support from a team that thrives on scoring. His numbers are sub par, sporting a 3-8 record with a decreasing ERA at 4.85. Six starts ago, he sat at 5.53. Since calling himself out as the weak link in the rotation, Dickey has pitched well enough to win every time he has taken the mound. At the Rogers Centre, batters are only hitting .199 against the 40-year-old. He has been able to change the speeds of his fluttering knuckleball, throwing one at 63 MPH to David Ortiz in his last outing against Boston, and has been inducing some comical swings from players like Pablo Sandoval.
It's easy to turn Dickey down. There's nothing sexy about his game this year, or since he has joined Toronto. But, he has been eating up innings, has a complete game under his belt, and is giving the powerful offense a chance each night. Why wouldn't you give him a chance in a one game playoff?
Who would you pick?