Much has been made about Japanese phenom Shohei Ohtani and his availability for Major League Baseball teams to sign him. That debate is now over. Ohtani will be an MLB pitcher in 2018. Our very own Max Wildstein wrote about Ohtani when news broke that he would be posted.
There was concern that Ohtani and his team, the Nippon-Ham Fighters, would just wait until he turned 25 years old. Had he done that, Ohtani would've been exempt from the international signing rules and been an amateur free agent, where he could've signed the biggest deal handed to him.
With Ohtani being posted, he's costing himself quite a bit of money but he gets to play in a bigger market and will become an instant star. Meanwhile, the Fighters will receive a 20 million dollar posting fee from the MLB team that signs him in exchange for the rights to negotiate a deal with Ohtani.
With a posting system in place, we can finally start discussing Ohtani's abilities on the field and some potential landing spots.
Ohtani on the Mound
First and foremost, Ohtani is a behemoth on the baseball diamond. Much has been made about his two-way play as an frontline starter while also showing plus power at the plate.
We'll start with his abilities on the mound. Ohtani missed most of 2017 due to ankle surgery that ended his year prematurely but it's not expected to affect him moving forward. His track record from 2013-2016, meanwhile, is incredible.
As an 18-year-old, he held his own in a highly competitive league. From age 19-21, he was far and away the best starter in the JPPL (Japanese Pacific League). He threw plenty of innings, missed bats, didn't hand out many free passes and his ERA dropped in each year. If we assume 2017 is a complete outlier, which it most certainly looks like, then he's a frontline starter.
The numbers are elite but it's the arsenal and package on the mound that excite scouts even more. MLB Trade Rumors had a fascinating scouting report on him early on in the year and it's almost too good to be true.
According to this report, along with many others, Ohtani consistently sits 95-97 mph with his fastball with late life, while hitting 100+ mph whenever he so desires. This is a 70 grade (20-80 scouting scale; check out more on scale here) on this pitch due to the fact that 95-100 mph is more common now than it used to be. He compliments that fastball with a filthy splitter that sits in the high 80s and projects as a another plus pitch. This is another 70 grade pitch as well given that he uses it effectively vs both left-handed and right-handed hitters. His slider is a 65 grade pitch, one that sits in the mid 80s and misses bats. This is a pitch, like his splitter, that works against both right-handed and left-handed hitters.
His "worst" pitch is a curveball, a 55 grade pitch that is used more or less as a change of pace pitch. It's a bit loopy, meaning MLB hitters may catch onto it but there's enough depth and movement to be an effective and above average pitch.
To make matters worse for hitters, Ohtani commands all of these pitches extraordinarily well. With one elite pitch, two extremely good pitches and another above average offering, the plus command makes Ohtani a certifiable monster on the mound.
Projecting a pitcher to become an ace is often fools gold but if you want to throw that expectation on Ohtani, it's not out of line. Here are some comparisons thrown on Ohtani by scouts mentioned in the MLB Trade Rumors article: Nolan Ryan, Justin Verlander, Roger Clemens, Doc Gooden, Josh Beckett and Yu Darvish. Not bad.
Ohtani as a Position Player
The talent level of Ohtani is so superb that some scouts believe he may be better as a hitter. It seems more likely, according to most baseball people, that Ohtani will be a better pitcher but there's clearly some future for Ohtani getting serious big league at-bats.
Ohtani's main calling card at the plate is raw 65 grade power. His in-game power is likely closer to 55, which is roughly a 20 home run hitter. Ohtani blasted 48 game home runs in 1,170 plate appearances across five years, good for a home run every 24.38 plate appearances. For reference, that HR/PA ratio is better than ratios from Daniel Murphy, Corey Seager and Mookie Betts in 2017.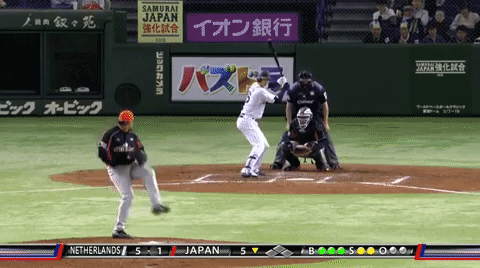 His bat to ball skills lack a bit behind, leading some to believe he may struggle making contact at the highest level. He struck out 27 percent of the time in a less competitive JPPL and that's a real issue coming over to the MLB, where strikeout rates are at historic levels. His power gives him room for error but the contact issues could hold back his potential at the plate.
Ohtani also runs extremely well with 60 grade speed that could make him a fit in a corner outfield position. He's had limited reps in the outfield and given his abilities on the mound, it's more likely he'll DH for an American League team or play some first base for a National League team, if a team wants to go that route.
Ohtani could certainly improve with everyday at bats but with his dominance on the mound, those at bats may not be there. Whoever signs him will have to decide how to utilize him and unlock some potential at the plate.
For an American League team, Ohtani could get plenty of at bats as a first baseman or designated hitter. It's less clear if he'd be able to handle starting on the mound some nights then play the outfield another night. His role as a National League pitcher would be easier to project, as he'd receive 2-3 at-bats every night he started and could get potentially get more at bats (pinch-hit opportunities, starting in outfield).
Ideally, if  he's used correctly, we could see Ohtani post 5+ Wins Above Replacement (WAR) with his all around ability on the diamond. If you project Ohtani to be a No. 1-2 starter (4-6 WAR) and a solid hitter (1-2 WAR), he's one of the best players in baseball. If you project him as a No. 3-4 starter (2-4 WAR) and a mediocre offensive performer (0-1 WAR), he's still a well above average player whose young. He's a coveted player in both scenarios.
Potential Landing Spots
Ohtani will be treated as an international player whose under the age of 25 and less than 6 years of experience. This was made clear from the start and it's a big reason why negotiating this posting process took so long. This classification means Ohtani is making many millions less than he would had he waited a few seasons.
Teams who have more available spending money in their international pools figure to have a slight advantage. The Texas Rangers currently have the most spending money in their international pool at $3.535 million. The Yankees come right behind them at $3.5 million. It's no coincidence that these are two of the commonly rumored teams that are in on Ohtani and a little extra cash certainly helps that narrative.
Money may not be a huge concern for Ohtani, however, given that he was willing to sacrifice tens of millions of dollars to come to America quicker. This leads many to believe that all of the big market teams, specifically those with heavy international presence, will be able to lure Ohtani to their organization.This means we can throw the Los Angeles Dodgers, Boston Red Sox, Chicago Cubs and New York Mets into the mix. The aforementioned teams above, the Rangers and Yankees, likely have a bit of a leg up due to the extra cash and their history with foreign-born players succeeding with those teams. Another sleeper team could be the Seattle Mariners, who have a strong international presence and had success with that Ichiro fellow.
The fact of the matter is we don't know where Ohtani will end up because this is a very unique situation. Every team in baseball should be in on Ohtani, with some sort of pitch to bring him aboard. Even if the chances are slim, there's zero reason for teams not to reach out to Ohtani's camp and try to sell themselves.
Ohtani's Impact in MLB 
It took some time to finalize everything but Shohei Ohtani will be playing in the big leagues in 2018. This is a pleasant thought for this author because his talent is through the roof and his storyline is very compelling.
At 23 years of age, we get to see him grow into a potential star in the majors. Unlike past Japanese stars (Yu Darvish, Ichiro Suzuki), Ohtani is coming over before he's even turned 25. This means we may see the peak years of Ohtani right off the bat, without a decline coming any time soon.
Whatever team ends up with Ohtani will be striking gold. He could be the biggest bust of all time in terms of expected performance yet could cost his team less than $5 million. If he performs as many expect him to, he's going to be a superstar who will be paid well below market value.
If he ends up in the New York, Los Angeles or Chicago market, and performs right off the bat, we might be looking at a new face of baseball.