2017 represented a step in the right direction for the overall state of the organization yet the Angels still failed to make the playoffs. An 80-82 record was an improvement on the disastrous 74-88 win team in 2016 and there's hope the club can continue growing in 2018. After years of poor drafts, ill-advised trades and land-mine free agent signings, the team has started to showcase some patience, and in return, see some healthy trends. Billy Eppler took over the Angels General Managerial job after the 2015 season and his patience and knack for finding sneaky value has started to pay dividends.
Eppler has pulled off shrewd trades(Andrelton Simmons, Parker Bridwell), found valuable players for essentially nothing(J.C. Ramirez, Blake Parker) and drafted well(Jordon Adell, Brandon Marsh, Chris Rodriguez). This combination of strong scouting and smart spending has given the Angels organization depth, along with financial flexibility. With some firepower at the top of the Angels depth chart, a few more smart moves could catapult the team into contention.
Any discussion about the Angels will begin with Mike Trout, who has had one of the most productive starts to a career in MLB history(54.4 fWAR in 925 games). He's starting to get some help, too, with Andrelton Simmons posting career numbers in 2017(4.9 fWAR, 103 wRC+) and Justin Upton(5.0 fWAR, 137 wRC+) adding much-needed offense to a lineup that finished 22nd in runs scored. Upton had an opt-out on his previous deal but he was quickly signed by the Angels to a five-year $106 million deal to kick off the offseason.
Upton's signing is likely the biggest acquisition this offseason for the Angels, one that was necessary, but this is a team that still needs to make a few more moves to contend in 2018. The Angels 2018 payroll(including estimated arbitration raises) currently sits at $139.3 million, which gives the Angels 20+ million more dollars to spend. With needs on both the pitching and offensive side, Angels owner Arte Moreno may need to open up the pocketbook a bit more. Here are five items on the Angels wish list for the 2018 season.
1. Find a competent second baseman 
With Justin Upton on board, the left field nightmares of recent years are gone for the Angels. This moves all the attention to second base, where the Angels have received atrocious production since Howie Kendrick was traded after the 2014 season. Since 2015, the Angels second basemen rank last with -0.9fWAR(Fangraphs Wins Above Replacement) and a 66 wRC+(Weighted Runs Created+).
The "deadly" combination of Danny Espinosa, Brandon Phillips, Cliff Pennington, Nick Franklin, Kaleb Cowart and Nolan Fontana produced a measly .207/.274/.318 line in 2017. To make matters worse, none of those players represent long-term options for the position and there isn't much help in the upper levels of the minors. It's almost a sure bet the club will look outside the organization for a second base option. In fact, it's the #1 priority to find a second baseman, according to assistant General Manager Steve Martone.
Luckily, the Angels have a wide array of options to explore. Several young, controllable options are available via trade, including Cesar Hernandez, Dee Gordon and Joe Panik. All three of those options represent solid everyday big leaguers who would be welcomed additions to a team short on club-controlled assets.
If the Angels want to keep the farm system intact, there are several options on the free agent market, including Neil Walker, Zack Cozart and Eduardo Nunez. Other options could come about but don't be surprised to see one of those aforementioned players manning second base in 2018.
2. Hire a Voodoo Witch to conduct the "good health" spell on Angels pitchers
It's no secret that the Angels pitching has faced an extraordinary amount of injuries in recent years. Tyler Skaggs tore his UCL and had Tommy John Surgery in 2014. Garrett Richards, Andrew Heaney and Nick Tropeano tore their UCLs in 2016, with the latter two requiring Tommy John Surgery. Richards returned in 2017, only to deal with nerve damage in his throwing arm and miss most of the year. Adding onto the list: J.C. Ramirez, Matt Shoemaker and Alex Meyer also dealt with arm injuries in 2017 and are question marks for 2018.
As of now, the Angels have seven starters who will compete for rotation spots in 2018. Parker Bridwell is the only one who hasn't dealt with recent arm issues and given that his 3.64 ERA last year was likely a fluke(4.84 FIP, 8.7 K-BB percent), the rotation needs some serious help. The 2017 rotation finished 12th in ERA yet finished 26th in fWAR and had the league's fifth highest home run rate.
Unfortunately for the Angels, the free agent and trade market isn't flush with options. Billy Eppler has all but ruled out spending big on pitching so names such as Yu Darvish, Jake Arrieta and Alex Cobb can likely be ruled out. Even mid tier options such as C.C. Sabathia or Jaime Garcia could be out of the equation based on Eppler's quotes. This means attempts at lower tier pitchers(Scott Feldman, Wade Miley, Miguel Gonzalez) is the more likely route.
The Angels know the health situation of their pitchers better than everybody else but it would seem foolish to roll into the season with their current group. With minimal depth in the upper minors, one or two additions to the group, along with some positive health news, would be big for the pitching staff.
3. Find another first base option
Luis Valbuena will likely slide to third base to be utilized in a platoon, which means C.J. Cron is the current first baseman. While he hasn't been bad by any means, his .262/.307/.449 line in nearly 1,500 plate appearances doesn't inspire much confidence. Albert Pujols is a DH-only option at this point outside of a handful of spot starts at first base every year. For a team that expects to compete in 2018, first base can clearly be upgraded.
The free agent market is filled with options to fix this issue. Eric Hosmer, Carlos Santana, Logan Morrison, Yonder Alonso and Lucas Duda are all options, who will come out various prices and most likely would fix the Angels first base problems. Hosmer and Santana may be too pricey but the latter three, along with others such as Adam Lind or Mitch Moreland, could be positive adds. All of those options had a better wRC+ than the Angels group, who posted a 90 wRC+ in 2017.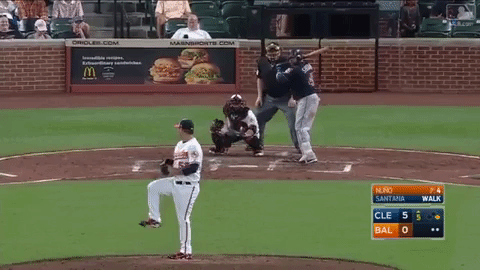 With so many options on the market, the Angels may be at an advantage where they can wait out the process and drag the price down. Given that the offseason has already started slow, this works in the Angels favor. The team could hold out until the new year in hopes that they can snag someone on a cheaper deal.
The team could splurge and sign J.D. Martinez or trade for Jose Abreu but this seems unlikely. Matt Thaiss, the Angels 2016 first round pick, reached Double-A last season and could be an option soon but his limited ceiling means acquiring another option is needed for the foreseeable future. If C.J. Cron is the Opening Day first baseman in 2018, this offseason probably didn't go as planned for the Angels.
4. Welcome a rejuvenated Albert Pujols or begin the early retirement talk
This may sound an odd item to place on a wish list but it's a necessity for the Angels. Albert Pujols is a future first-ballot Hall of Famer and one of the best right-handed batters in MLB history. With that being said, he's become a financial burden on the payroll and a black hole at the DH position. For the Angels, having an idea of who Pujols is moving forward will help with the tough task of dropping him down in the lineup.
In 2017, Pujols hit a measly .241/.286/.386 and finished with the worst fWAR(-2.0) among all MLB players. Pujols will be 38 in 2018 and is owed $114 million over the next four seasons. If this is the new norm, Pujols will be a huge hindrance on the Angels for the remainder of his deal, both statistically and financially.
The issue with Pujols falling in between these two scenarios is he won't be bad enough to contemplate retirement but he won't be good enough to warrant middle of the order at bats. If Pujols is a sub 100 wRC+ hitter, he has no business hitting behind Mike Trout and Justin Upton in the lineup. Angels Manager Mike Scioscia, however, hasn't shown any signs of bumping him further down in the order.
Ideally, Pujols will be able to enjoy this full offseason with no surgeries, which would make this the first offseason he's avoided surgery since the post-2012 offseason. If Pujols comes into camp in better shape in 2018, maybe he can bounce back to be an above-average bat, which is an outcome the Angels would surely take.
It's an uncomfortable position for the Angels to be in but the organization needs to put its' desire to win first and foremost. If Albert Pujols can't cut it as the everyday DH, there needs to be discussion about moving him down or out of the lineup if these struggles continue. The early retirement talks could be in full swing as well with a poor start to 2018. Hopefully for the Angels and Pujols, his performance can improve to prevent these talks.
5. Continue improving the organization from top to bottom
There is frequent chatter about the Angels wasting Mike Trout. Since the phenom arrived full-time in 2012, the club has made the playoffs once(2014) and won zero playoff games with his presence. Employing the best player in baseball for six seasons and not winning one playoff game is not ideal. The Angels need to take advantage of Mike Trout, who can hit free agency after the 2020 season.
With that being said, there needs to be an eye on the long-term health of the organization as well. If the Angels decided to go all in from 2018-2020 and still failed, they'd be wrecking an improving farm system and potential long-term talent, while also potentially seeing Mike Trout and Andrelton Simmons(free agent after 2020) leave in free agency. For Billy Eppler, it's all about finding that middle ground in his approach. Given that Eppler has watched this farm system grow since he took over, it would be tough to gut the system for short-term gains.
An easy compromise between maximizing Mike Trout and focusing long-term is getting Mike Trout a new long-term contract. A lifetime contract for Trout keeps him in an Angels uniform and also means the club can continue to grow and develop their young talent, rather than panic and try to maximize just the next three years. You can also throw an Andrelton Simmons extension into the mix, given that he just put up a phenomenal 2017 season and is still in his prime. If these two players can be extended beyond 2020, the tempting desire to panic and go all out now will disappear.
If the Angels can extend those two players and make a few solid signings via free agency, while also preserving the farm system, the organization could be in a totally different place in a few years. Perhaps the Angels can convince superstar Shohei Ohtani to come to Anaheim, whom the club is reportedly going after, which would be a franchise-altering move for the organization. While everybody wants to see Mike Trout playing October baseball, it's also vital for the Angels to to focus on the organization as a whole.