It's no secret that the Chicago Cubs have been seeking controllable starting pitching for the last calendar year. The club acquired Jose Quintana midseason in 2017, giving them one long-term option. Today, the club acquired another young, controllable starting pitcher, signing free agent Tyler Chatwood to a three-year deal.
Chatwood will earn $38 million over the course of the three years, according to Sahadev Sharma. Chatwood owns a career 4.31 ERA in 647.2 innings, which is not the reason why teams had shown interest in him. Rather, teams see a pitcher going into his age 28 season next year who more than held his own while pitching half of his games at Coors Field
Chatwood spent his first MLB season in 2011 with the Los Angeles Angels, who made him their second-round pick in the 2008 draft. A trade for Chris Iannetta sent Chatwood to the Colorado Rockies after 2011, where he was faced with the tough task of succeeding at higher elevations. Like most Rockies pitchers, Chatwood had extreme home-road splits.
From 2012-2017 as a member of the Rockies, Chatwood recorded a 5.17 ERA in 254 innings at home. His K-BB% in those home games was a measly 6.2%, which put him in company with pitchers like Mike Pelfrey, Jeremy Guthrie, and Henderson Alvarez. In road games during that time, Chatwood posted a 3.18 ERA in 254.2 innings, which was top 10 among starting pitchers during that time. His K-BB% in those road games, however, was just 6.3%, only a slight improvement over his home games.
Chatwood posted a .259 BABIP in his road games with the Rockies while posting a rather high .325 BABIP in his home games. A fair assessment would be Chatwood lucked out big time on the road but was unlucky at home, especially at Coors Field. If you split the middle ground on those two numbers, you get a guy who settles in with a low 4's ERA.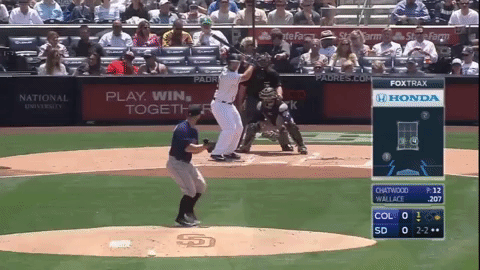 The Cubs are taking a chance on Chatwood for other reasons than just banking on his road splits being his actual performance level. An extremely hard thrower, Chatwood averaged 94.7 mph on his fastball in 2017, which ranked 19th among starting pitchers with 100 or more innings. On top of throwing hard, Chatwood is an extreme ground ball specialist, which is needed in today's game filled with soaring home run rates.
Since he became a big league starter in 2011, Chatwood's 54.7 percent ground ball rate ranks 12th among all pitchers with at least 500 innings pitched. Brooks Baseball, which tracks velocities and movement, said that every pitch Chatwood threw in 2017 (fastball, curveball, slider, changeup) generated well above average ground ball rates.
Working against Chatwood is his injury history that includes a Tommy John surgery in the summer of 2014, which wiped out most of that season and all of 2015. He rebounded nicely from that surgery, throwing 305.2 innings in 2016-17, but that surgery still lingers in the background.
The combination of youth, velocity, and groundball tendencies made Chatwood an interesting option in this free agent market. The Cubs clearly agreed, making him a member of their organization for the next three seasons. With Jon Lester, Kyle Hendricks, and Quintana, the group has a pretty solid group of starters at the moment, but don't be surprised to see the club acquire more starters this offseason.