Gerrit Cole is not the starting pitcher he was last year. For this, the Houston Astros are thankful. Though Cole is backing a star-studded rotation in Houston, he's pitching like the denoted ace he once was and returning to Cy Young Award form. All it took was a change of pitch selection frequencies and a newfound confidence to re-insert himself back into All-Star conversations.
Last season's nightmares for the former fourth-place National League Cy Young Award finisher became this season's reclamation project for the defending World Series champions. Early results are in, and Cole's masterful first month has put a smile on the faces of Astros faithful thus far. He came at a price, as the Astros dealt prospects Colin Moran and Jason Martin and major league pitchers Michael Feliz and Joe Musgrove to the Pittsburgh Pirates for the former NL All-Star. As of right now, the Astros won that trade and then some.
After a lackluster 12-12 record in 2017, with a 4.26 ERA, 1.251 WHIP, and 31 home runs allowed, Cole has burst out of the gates with a 2-1, 1.29 ERA, 0.71 WHIP start to 2018. The 27-year-old has struck out an American League-best 49 batters, compared to just eight walks, in his first five starts of the campaign.
The 129 batters Cole has faced so far are hitting just .160 against him this season, as the former number-one overall pick is sporting a ridiculous 298 ERA+ after 35 innings of work. This isn't just a spark of numbers on a stat sheet; Cole is noticeably pitching better in terms of pitch location, selection, and confidence.
Thanks to a newfound confidence on the hill, Gerrit Cole is back to pitching like a bonafide ace for the @Astros.
Click To Tweet
Throughout his career, Cole has thrown five strong pitches that all rank from 55 to 65 in most expert scouting reports: a four-seam fastball, a two-seam fastball, a curveball, a changeup, and maybe his best pitch, a slider. According to FanGraphs' Pitch Type stats, Cole has altered his pitch selections as opposed to his previous five seasons in the bigs. For example, let's use last season, statistically the worst full season of Cole's career.
2017: Fastball – 60.1%, Slider – 17.2%, Curveball – 12.2%, Changeup – 10.5%
2018: Fastball – 51.7%, Slider – 24.0%, Curveball – 17.0%, Changeup – 7.4%
The numbers never lie: Cole is throwing more sliders, more curves, and fewer fastballs. I wanted to see how this change affected his in-game pitch selection strategy, so I took to the MLB game archives on YouTube and took in action from a typical Cole start with the Pirates and one of his four as an Astro this season.
For the record, I chose, at random, the Pirates vs Miami Marlins game at PNC Park in Pittsburgh on June 8, 2017. Cole went 4.2 innings deep in this start, allowing 11 hits and seven runs while walking one and whiffing five. As for the Houston start, I only had four to select from, so I picked the Astros vs Texas Rangers game at Minute Maid Park in H'Town on April 13.
I chose this one specifically because the Rangers have a great mix of lefties and righties in their batting order. Cole dominated, throwing seven innings and striking out 14 in an Astros victory. Let's take a look at how each game went without viewing stat sheets and Baseball-Reference pages, but instead look at pitch locations, pitch types, and all that fancy stuff.
Alright, Gerrit, you're facing a left-handed hitter with two runners in scoring position and two outs. Just throw it low to induce a ground ball for an easy out, and try not to pull the pitch toward the hitter, because it's a lefty bat.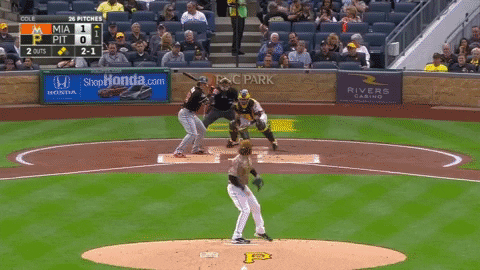 Oh, okay, two-seam fastball in a 2-1 count with some right-to-left break that ends right down the middle of the zone. It's a two-RBI double off the right-field wall. Remember, it's just the first inning, you're still in good shape. Let's fast forward to the fourth, your offense isn't really helping, but keep your cool and all will be fine.
It's a righty, and hey, you're good against right-handers, they hit only .241 against you in 2017. There's a runner on second, and any base hit will score him, so if I could recommend anything it would be to keep it down and in. Jam him and keep the ball on the ground.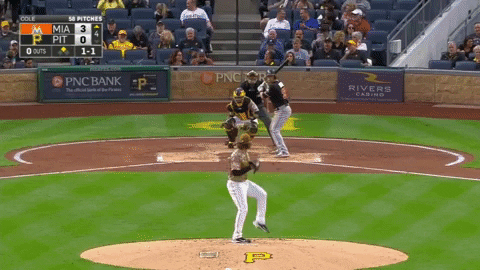 An RBI double off the wall thanks to a rising fastball is fine too, man, you know what, you do you, you're the pitcher and you've got this. Just maaaaybe stay away from that fastball up high.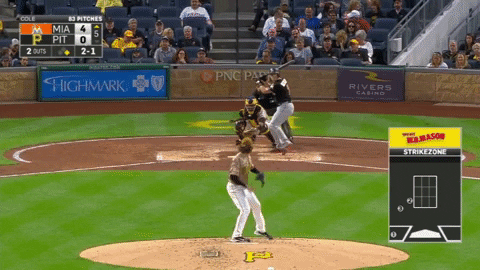 Right down Broadway. Gerrit, buddy, you have such a great slider, you should use that instead of pummeling fastballs into the heart of the plate.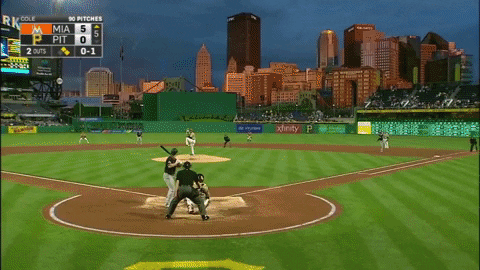 Well, not like that. Two outs and a pitcher's count, and you hang a pulling slider over the outside of the plate. Cool beans, man, the Pirates aren't in a postseason position anyway, everything is fine.
You (yeah, you, the reader) can see what Cole needs to do, right? It's all about having confidence and being assertive. The pitcher is the only position in sports who always sets the pace of an event; their opponents have to concede to the game the pitcher wants to play. Being an MLB hurler is all a matter of control, and how much belief you have in your game can bend the results of every single pitch you throw.
Last year's Gerrit Cole was a pitcher with no trust in his game, whereas 2018 Gerrit Cole is an ace. Let's dive into those Astros GIFs.
Here, it's 1-2, he's facing a guy who doesn't have overwhelming power (Jurickson Profar), there's no one on base, and it's very early in the game. Cole knows he can play around with a pitch to see if it's working for him, and maybe catch a K in the process.
A 97 mile-per-hour four-seam fastball right in the bottom/inside corner for strike three looking. Maybe he gets a fortuitous call here, but the premise of the pitch remains the same: confidence. That's what a steaming, 97 MPH, straight-line fastball for strike three looking implies.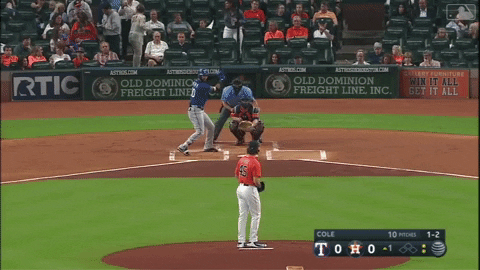 His fastball is working for him, huh? Here he sees the 23-year-old, strikeout-prone Nomar Mazara, and extends the strike zone with a high, rising fastball clocked at 98 MPH. He walks off the hill with a stone cold expression on his face and a body language that insinuates a firm confidence in himself. He didn't have this last season.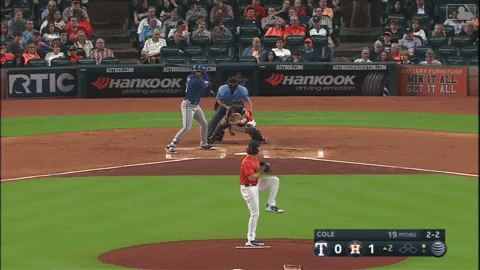 To Joey Gallo, a batter similar to Mazara but in many ways a tougher out, he throws the same pitch. Two-strike count, high fastball at 98 MPH, swing and a miss, dugout. If it ain't broken, don't fix it — and one reason his fastball has been increasingly effective is that he uses it less. Fewer eyeballs on your pitches means fewer hitters know what to expect, and he's throwing it only at the right times.
It's working against lefties, so let's try it against right-handed Robinson Chirinos — ah, he put him in a blender and whiffed him on another two-strike four-seamer. Cool cool cool cool. But enough with the fastballs, we get it, you can throw hard. No elite pitcher has one set strikeout pitch — rather, variety is key.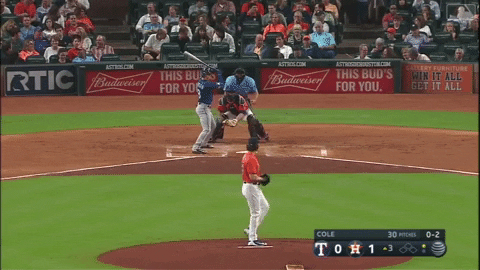 Oh, so you have a nice curveball that pulls well to left-handers. Try it again.
What is the keyboard input for a backwards K on Windows? Asking for a friend.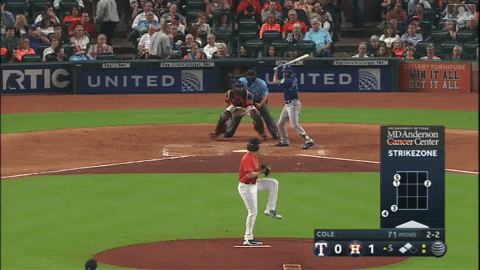 I think that's a slider? Isiah Kiner-Falefa knows it's strike three. This one is especially stunning to me: two on and in scoring position, two outs, and Kiner-Falefa hits ninth in the order, which means the top of the lineup is coming back around. He throws an 83 MPH pitch that breaks multiple ways and freezes the young hitter. C o n f i d e n c e.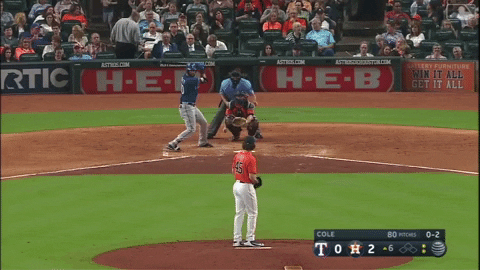 And there's that un-hittable slide piece that gets Mazara to fall for the second time. It's beautiful, downright beautiful, and it's the product of a newfound confidence from Cole on the mound for the Astros.
He doesn't get in trouble early in counts, he doesn't look to blow past hitters at 97-98 MPH, he doesn't implode mid-game. You can credit that to veteran catchers like Brian McCann, or the league-renowned pitching staff in Houston, but I point only to Gerrit Cole's confidence as the driving force to his resurgence as an MLB ace.